Girtford Primitive Methodist Chapel
Sandy, Bedfordshire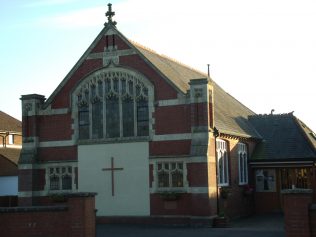 The hamlet of Girtford is located in the east Bedfordshire parish of Sandy on the Great North Road.
The first PM chapel was located in London Road. This chapel in the Bedford Circuit opened on 6 October 1868 and had seating for 120 people. In addition to afternoon and evening Sunday worship, a midweek meeting was held fortnightly on a Thursday evening. The Cambridge Independent Press of 24 July 1869 noted of Girtford PM that 'The friends connected with this new place of worship held a  public tea-meeting on Tuesday last, at which about 100 were present.'
A new chapel was opened in 1910 in St Neots Road. The architect for the new chapel was George Baines and it built by Charles Wright of Biggleswade.  Information about the opening can be found on the Methodism in Girtford page of the Bedfordshire Community Archives website.
After Methodist Union, the Girtford chapel became and in 2014 remains Sandy Methodist Church.
Sources and References
Bedfordshire Chapels and Meeting Houses: Official Registration 1672-1901 Volume 75 Bedfordshire Historical Record Society – Edited by Edwin Welch
Kelly's Directory of Bedfordshire 1898
Bedford Circuit PM Plan January to March 1890
Bedfordshire and Luton Archives and Record Service – Community Archives website
Cambridge Independent Press – Saturday 24 July 1869