Lambourn Primitive Methodist chapel
High Street Lambourn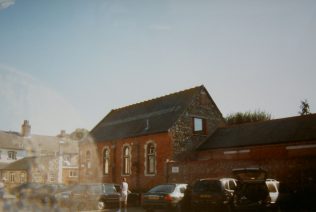 Supplied by Simon Charters
The Lambourn High Street Primitive Methodist chapel in the Newbury circuit shown in Keith Guyler's photograph opened for worship from October 7th 1859, when Rev J Toulson preached at the opening service.  Other speakers at the services and tea meeting for 140 included W Bell, E Bew, W Phelps and S Turner who described the events in the Primitive Methodist magazine, although spelling Lambourne with an "e".
The chapel was closed in the 1950s and the notes accompanying Keith Guyler's photograph say that it then passed into commercial use as Strategic Meeting Press.
The chapel was located up an alley off the High Street, adjacent to the High Street car park, behind street front buildings on the northern side of High Street, east of the junction with Edwards Hill. The label as a church/chapel disappears from Ordnance Survey 1:2,500 maps between 1936 and 1981. However, the building (or a later one) still exists in commercial use – Ginger Video.
It is not visible on Google Street View.
There are some lively memories of life in the chapel on the Lambourn Info website.
Reference:
Lambourn Info website, accessed August 3rd 2015
Primitive Methodist magazine December 1859 page 743