Winchmore Hill Jubilee Primitive Methodist chapel
The Hill Winchmore Hill AMERSHAM HP7 0NY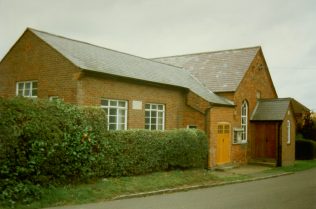 Winchmore Hill Jubilee Primitive Methodist chapel was opened in 1860.  A hall was added in 1953 and a porch to celebrate the Centenary in 1960.  A Wesleyan chapel was opened in the village in exactly the same year, although it was the Primitive building that was retained in due course after Union.
The laying of the foundation stone on August 21st 1860 is described in the Primitive Methodist magazine. Preachers included Rev. M. Wilson, G. H. Fowler and Jas Smith; Thomas Wilson laid the stone.
After the stone was laid, "the people retired to a booth in Mr. Woodbridge's orchard, where upwards of 350 took tea."
The opening took place on November 4th 1860. Preachers included Rev. T. Davies and Messrs Pierce, Stone, Fowler, and Wilson. The new chapel measured 28′ x 24′ and cost £140 of which they had raised £50.
There is a good account of the development on non-conformist Christianity in the Chiltern Commons in the essay Dissension to Domesticity by Andrew Muir in Our Common heritage, published by the Chilterns area of Natural Beauty.
---
Reference
Primitive Methodist magazine December 1860 page 741 
Primitive Methodist magazine March 1861 page 168