Little Downham Primitive Methodist chapel
Steam Engine, 100 Foot Bank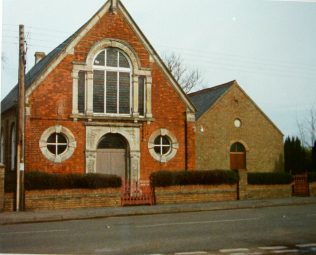 Little Downham is north of Ely. The notes with Keith Guyler's picture say that it shows Little Downham Primitive Methodist chapel which was opened in 1877 and closed in 1907.
The Victoria County History of Cambridgeshire says that a Primitive Methodist chapel was established on the Hundred Foot Bank in 1836 and rebuilt in 1878. There might  be some confusion as it also says that "the existing Wesleyan church in the village dates from 1907, the former building now being used as a schoolroom." This is a bit close to Mr Guyler's 1907 date for coincidence.
The chapel in the picture  is now used as a house, but immediately to its right is the former hall which on Google Street View in October 2011 is in use as St Leonard's Methodist and Church of England Community Rooms. Helpfully, Street View also labels the former chapel as Wesleyan.
The Primitive Methodist chapel out at Steam Engine  on the the Hundred Foot Bank was in a small cluster of houses around a draining pump. Some of the buildings still exist, but it is difficult to see whether there is any evidence of the chapel. We do however know a bit about it from the 1851 Census of Places of Public Religious Worship; thanks to Philip Thornborow for the detail.
No name.
Address 100 Foot Bank Steam Engine, Downham
Erected 1836
Free sittings 25 Other sittings 70
Attendance March 30 1851 Morning 33 SS Afternoon 55 general 33 SS Evening 32 general
Average attendance Morning 30 SS Afternoon 55 general 30 SS Evening 30 general
Signed William Pearson, Steward
location: TL507891
Reference:
The Victoria County History of Cambridgeshire accessed through British History Online 15th August 2015