Little Downham Primitive Methodist chapel
Main Street, Little Downham CB6 2SX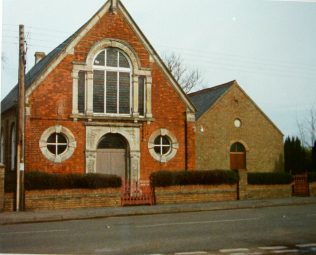 Little Downham is north of Ely. The notes with Keith Guyler's picture say that Little Downham Primitive Methodist chapel was opened in 1877 and closed in 1907.
The Victoria County History of Cambridgeshire says that a Primitive Methodist chapel was established on the Hundred Foot Bank in 1836 and rebuilt in 1878. There might also be a bit of confusion as it also says that "the existing Wesleyan church in the village dates from 1907, the former building now being used as a schoolroom." This is a bit close to Mr Guyler's 1907 date for coincidence.
The chapel in the picture – whether it is the former Prim or former Wesleyan building – is now used as a house, but immediately to its right is the former hall which on Google Street View in October 2011 is in use as St Leonard's Methodist and Church of England Community Rooms.  Mind you, Street View also labels the former chapel as Wesleyan.
location: 520838 
---
Reference:
The Victoria County History of Cambridgeshire accessed through British History Online 15th August 2015