Manea Primitive Methodist Church, Cambs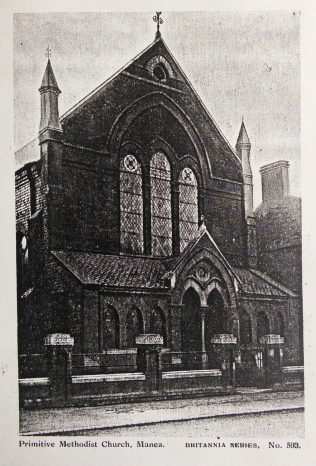 Englesea Brook Museum picture and postcard collection
Manea was my grandfather's last appointment (Rev Frank Davidson). He was Superintendent of the Circuit when he died in 1937.  My parents met in this village.
(added by CH 05/2017 and 08/1/2018)
The Primitive Methodist magazine contains an account by Samuel Atterby of the opening of a previous Manea Primitive Methodist chapel. The services  on March 4th and March 8th 1835 were addressed by Rev Jo Wood, Mrs Harding, S Atterby, Mrs Olphin and Mrs Hardwick. 
The chapel was described as "the most beautiful chapel in Isle of Ely'" with commodious elevated seats.
In 1860 an account by WH Meadows describes the enlargement of the chapel and its re-opening on October 23rd 1859. This followed a revival in 1857. The chapel was made 9′ wider at 29′ (the length staying at 33′), the walls raised and a gallery added. This meant it seated 300. The changes cost £185 of which £73 had been raised.
Preachers at the opening services and tea meeting for 130 included P Daykin (Holbeach), Rev John Wesly Silcox, J. Burgess and T. Barnes. R.Beart, Esq., of Godmanchester gave 5,000 white bricks; James Burgess was a noted donor.
---
Reference
Primitive Methodist magazine 1836 p.103
Primitive Methodist magazine March 1860 pages 172-173