Wisbech St Mary Primitive Methodist chapel
High Road Wisbech St. Mary PE13 4RA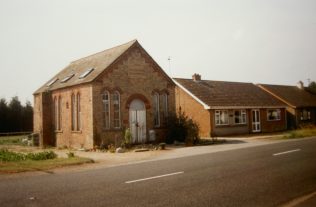 The first pictured Wisbech St Mary Primitive Methodist chapel dates from 1891.
The second chapel which is on the opposite side of the road dates from 1926.
On Google Street View in 2009 both chapels are still there. The use of the first chapel is not clear; it is little changed from the 1999 photograph.  The second chapel was still active as the Methodist church.  However, in 2014 application had been made for planning permission to turn it into a house by adding an internal first floor and building a garage at the rear.  The planning Officer recommended acceptance because the chapel "has little significant heritage value" and as many features as possible will be retained in the conversion, including the pulpit and font. 
locations: 416075 and 416079