Hough Primitive Methodist chapel
Cobbs Lane, Hough CW2 5GZ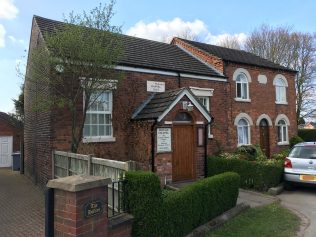 Christopher Hill April 2019
Hough Primitive Methodist chapel opening is described in the Primitive Methodist magazine. It was in the Sandbach circuit.
"At this place we have been much inconvenienced for want of a chapel, but through the good providence of God, and the united efforts of our society and friends, we have succeeded in erecting one, 27 feet by 24 feet. Opening sermons were preached August 5th, 1860, by Mr. R. Mayer, of Newcastle, and on August 19th by Mr. J. Broad, of Congleton, at which services the sum of £22. 3s. 8¾d. was obtained. It is expected that about one-half of the cost will be realized. In addition, to free seats, there are forty-nine sittings, which, are all let, and more are wanted."
The concluding servgicees of the opening were held in October 1860 by T Bateman and WR Johnson made a notable donation.
The chapel is used in 2018 as the Resource centre for the Englesea Brook Museum. With the opening of the Open Access store at the museum in April 2019, this will change.
Reference
Primitive Methodist magazine November 1860 page 689
Primitive Methodist magazine February 1861 page 116