Huxley Jubilee Primitive Methodist Chapel Cheshire
Huxley Lane CH3 9BQ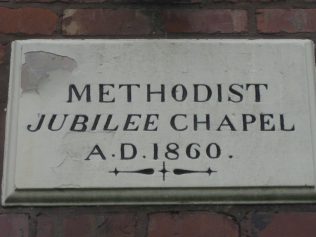 transcribed by David Tonks
Elaine and Richard Pearce took these photographs of Huxley Jubilee Chapel in May 2013.  They were sad to learn that during 2013 the society of Huxley Jubilee Chapel decided that the chapel will be closing in 2014.
OS Map ref:117:SJ512615
Huxley Primitive Methodist chapel dates from 1860. We are told by the steward, John Sadler, that previously, in 1851, they met in a preaching place dating from 1800. It held 50 people and the average attendance each Sunday evening was 40.
The laying of the foundation stone of the chapel is recorded in the Primitive Methodist magazine in a report by George Stacey.
"Huxley in the Chester Circuit was first visited by our preachers in 1819, and for forty-one years a congregation and society have been heartily welcomed, and uninterruptedly accommodated at the house of Mr. John Sadler, farmer. A plot of ground, of sufficient dimensions for a graveyard and chapel, has been secured to the Connexion, and the foundation stone of a Jubilee Chapel was laid July 5th, 1860, by I. F. Maddock, Esq., of Chester, who delivered an appropriate address ; after which the Rev. W.Rowe preached an impressive sermon to a large and attentive congregation, 270 of whom adjourned to a commodious tent, partook of an excellent tea, and liberally patronised the object contemplated."
The actual opening is described the following year by J Eastwood.
The new chapel was "neat …in the Gothic style", in the "most modern design" by Mr. T. A. Richardson, architect, of Chester. Built of brick and stone, it measured 34′ x 22′ and cost £250. Mr. E. Sadler, of Eccles, near Manchester gave the windows. A significant collector of funds was Mr. John Bennett, deceased.
The preachers at the opening were Messrs. T. Bateman, J. Aston, R. Dutton, J. Eastwood, and Miss Bennett.
Reference
Primitive Methodist magazine October 1860 page 621
Primitive Methodist magazine July 1861 page 436