Stockport; Ebenezer Primitive Methodist Chapel
Duke Street and Wellington Road South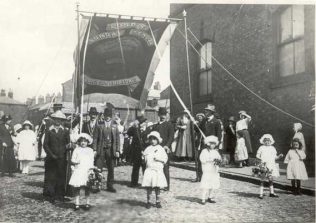 Photographer unknown (not copyright)
Photographer H. Lees (not copyright)
Photographer H. Lees (not copyright)
Duke Street Chapel
built 1827
The Primitive Methodist Chapel, Duke Street, is described in the History, Gazetteer & Directory of Cheshire 1850 edition as a neat brick building erected in 1827.
Few records about the chapel have been located but The Primitive Methodist Magazine 1860 records that they held their annual meeting in the Lord Street school – 132 persons sat down to a comfortable cup of tea.
Registers of births and baptisms at the "Primitive Methodist Connexion at the Ebenezer Chapel in St Peter's Place, Stockport" are available for the period from 1829 to 1837 at The National Archives (TNA RG4) in London and online at The Genealogist and BMDregisters.co.uk.
Wellington Road South Chapel
built circa 1881
A newspaper article in 1935 reporting the celebration of the 54th anniversary of the existence of the Ebenezer Methodist Church on the site next to the Town Hall possibly implies it was located elsewhere prior to 1881. The Duke Street location is just a few blocks away.
Unfortunately none of the directories examined give any history of the Wellington Road South Chapel – whether it replaced the Duke Street Chapel or not. Both, however, are referred to as Ebenezer Primitive Methodist Chapel.
Kelly's Directory of Cheshire 1902 records: Primitive Methodist, Wellington Road South (First Circuit), Rev. G. Knowles Smith.
There are a number of images available on the Stockport Image Archive relating to the Wellington Road South location, including those displayed here. It is possible to order a print – all those examined for this chapel were not under copyright.
The chapel was purchased by the Stockport Corporation to provide land for the extension of the Town Hall. It closed on 1 November 1935 though was not demolished until 1975.
Family connections
My great (x3) grandfather, Francis Beeston, was born in Fenny Bentley, Derbyshire in 1798. He moved to Stockport in the late 1820s. It is not known when he was first associated with the Primitive Methodists but William Clowes records in his diary that on 2 September 1833 he was in Stockport and was "kindly entertained by Mr. Francis Beeston". Francis' son Robert Beeston, was baptised here in 1835 and his cousins James and John Beeston in 1835 and 1836 respectively. Robert and James migrated to Brisbane in Queensland, Australia in the early 1860s. Robert continued his connection with the Primitive Methodists there and built a chapel in Merton-road, South Brisbane.
References
History, Gazetteer & Directory of Cheshire 1850 p271
Kelly's Directory of Cheshire 1902 p539
Stockport Image Archive http://www.stockport.gov.uk/services/leisureculture/libraries/libraryonline/stockportimagearchive/sia/
The Life of the Venerable William Clowes, One of the Founders of the Primitive Methodist Connexion by John Davison 1854, page 203