Sandbach Primitive Methodist chapel
Welles Street, Sandbach CW11 1GT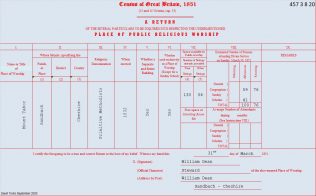 transcribed by David Tonks
The first Sandbach Primitive Methodist chapel opened on 20th and 21st May 1832 in Union Street at a cost of £354. Described by T Morgan in the Primitive Methodist magazine of 1834 as a galleried building in an eligible position, it measured 22′(w) x 30′(l).  Opening services were addressed on the Sunday by T Bateman and M Holden, and on the Monday by Sister E Allen.
This was the chapel shown in the Return from the Primitive Methodist society in the 1851 Census of Places of Public Religious Worship, completed by the Steward, William Dean.
The situation was not quite eligible enough so a site nearer the centre of town was bought for £144 at the beginning of 1858 and on May 28th 1858 the first brick was laid by the same Mr W Dean, a trustee of every chapel in the Sandbach circuit.
Opening services commenced on 12th September 1858. Addresses were given by Rev W Sanderson of Scotter and Rev P Pugh of Tunstall. John Graham describes the opening in the Primitive Methodist magazine.
The chapel was brick built, measuring 45′ x 36′; had a gallery at one end and a ceiling with a broad cornice; accommodated 320 people. There was a schoolroom under the chapel which was 9′ 9″ high and had a boarded floor. Next door was a minister's house. The whole cost £542 to build of which they raised more than £200.
The chapel closed around 1950 and in September 2016 was in use as a charity shop. The gable end can be clearly seen behind a modern shop front. There is a picture on the Geograph website.
Reference
Primitive Methodist magazine 1834 p.150
Primitive Methodist magazine November 1858 pp.746-747