Weston (Mount Pleasant) Primitive Methodist Chapel, Cemetery Road, Cheshire
This chapel was built in 1854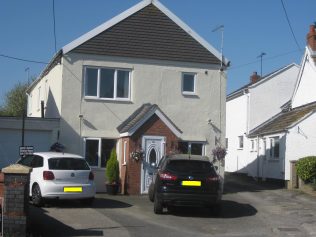 The chapel is listed in the statistical returns of the Methodist Church in 1940, when it was in the Sandbach PM Circuit. It could seat 100 people.
Built in 1854, it replaced an earlier chapel on the same site. The 1851 Ecclesiastical Census includes a return for a 'Primitive Methodist Preaching Room' at Weston, which was built about 1825, and could seat 100 people. All the seats were free. On Sunday 30 March, there was a morning service attended by 15 adults and 11 Sunday School scholars. In the afternoon, a second service was attended by 26 adults and 13 Sunday School scholars.
On the 1840s Tithe Map this preaching room is shown as one of two houses owned by James Harding. The Harding family were related to Hugh Bourne, and he preached at the chapel. William Stubbs was born in Weston in 1820, and gives a lovely account of Hugh Bourne having tea in the village.
The Chapel closed in 1959 and after closure it became a fish and chip shop for a short time. Now in 2015 it is a dwelling.
Photos taken April 2015
OS Map Ref:118:SJ732522