Durham Primitive Methodist chapel
Silver Street, then North Street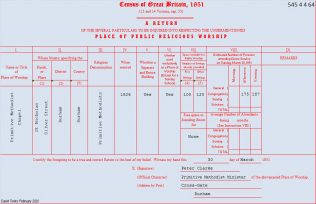 transcribed by David Tonks 2020
From the Centenary Handbook 1961, provided by Bill Richardson
The first chapel was in Silver Street, but it was up a back street and difficult to get to, although it cost £450. It is the chapel captured in the 1851 Census of Places of Public Religious Worship.
The foundation stone for a new chapel in North Road was laid on October 22nd 1860 following a procession from the Town hall to the new location.  There were 2000 people present at the ceremony and the following tea meeting.
William Saul describes the occasion: "At a quarter to two o'clock the ministers of our own and other churches, and trustees, assembled in the Mayor's Chamber, when the Rev. W. Saul announced that the Revs. W. Clemitson and E. Rust would lead the procession, accompanied by Sir William Atherton and John Bramwell, Esq., recorder of the city. These were followed by other ministers, the trustees of the future chapel, and a multitude of other friends.
Having arrived at the site, the Messrs. W. Clemitson, E. Rust, T. Stokoe, T. Sharman, and Samuel Goodall took each a part in the devotional service : the Rev. W.Lister and Sir William Atherton being the chief speakers. The Rev.J. A. Bastow presented Sir William Atherton with a beautiful silver trowel, a mallet and a plumb line, and the honourable Bart, said as he completed the task, " In the name of the Father, Son, and Holy Ghost, three persons and one God, I lay the foundation stone of the Primitive Methodist Chapel, in the city of Durham."
Sir William Arthurton was Solicitor General (and a Durham MP). You can read his speech in the Primitive Methodist magazine.
The opening of the new Gothic Jubilee chapel designed by Gibson Kyle is recorded by William Saul in the October magazine. It cost £2,000 held 600, had galleries on 3 sides and boasted a starlight with 51 gas jets suspended from the ceiling.
Celebrations started on May 19th 1861. Preachers included Revs. T. Greenbury, W. Clemitson, H. Phillips, W. Antliff, VV. Lister, W. Shearman (Wesleyan), and S.Goodhall (Independent).
See Geoff Dickenson's comment below to discover where this chapel was and what happened to it.
Reference
Primitive Methodist magazine January 1861 pages 49-51
Primitive Methodist magazine October 1861 page 611