Evenwood Brookside Primitive Methodist chapel
Swan Street, Evenwood, BISHOP AUCKLAND, DL14 9RA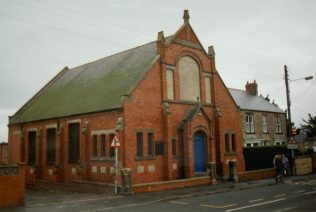 transcribed by David Tonks 2020
The return from Evenwood Primitive Methodist chapel to the 1851 Census of the Paces of Public Religious Worship records a chapel built in 1837.
The later chapel in Swan Street was opened in 1912 and closed in 1950.  Durham County Record Office contains documents relating to the Society, including:
1. a mortgage document of 15 November 1860 between  (1) Matthew Bowman of Evenwood, miner, and others, trustees and (2) George Palpharamand of Rugby, Co. Warwick, engine driver.  The mortgage by demise for a term of 1000 years covers a piece of land in Evenwood for the purpose of building a Primitive Methodist Chapel and was for £100.
2.  a provisional valuation of Evenwood Primitive Methodist Church for duties on land values, 30 April 1915
Google Street View in 2009 shows the chapel little changed, but neat and tidy and with disabled access.