Hamsterley Primitive Methodist chapel
Hamsterley, Bishop Auckland, DL13 3PP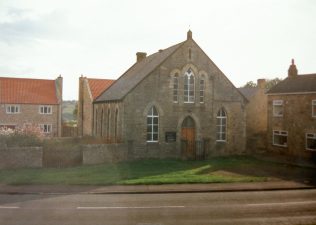 The 1884 Primitive Methodist magazine records  the laying of the foundation stones for a new Primitive Methodist chapel at Hamsterley (sic) in the White-le-Head station.
Durham County Record Office contains a number of documents in relation to Hamsterley Primitive Methodist chapel.  They include a letter, dated 25 September 1886, from the General Committee of the Primitive Methodist Connection, Burnham House, London, to the authorities of St. Helen's Auckland Station, authorising the sale of the previous (tin?) Hamsterley chapel.
William Patterson, writing in 1909, says the following of Hamsterley:
"Hamsterley has bravely kept the faith since Samuel Laister preached there on July 10th, 1821. Many trophies have been won for the Lord, and a strong society to-day renders efficient service. On entering the St. Helen s Circuit in the early eighties, Andrew Mein and his family worshipped at Hamsterley. Seeing the need for a better building than the old structure in which the meetings were held, he interested himself in securing a new chapel, and the cost of the neat edifice was rapidly extinguished."
The new chapel was built in 1887 – it is reported in the Primitive Methodist magazine – and is still active with 11 members in January 2015.
 Reference:
Patterson, William M (1909) Northern Primitive Methodism; A record of the rise and progress of the circuits in the old Sunderland District, Dalton, London
Primitive Methodist magazine 1884 page 571
Primitive Methodist magazine June 1887 page 380