Stanhope Hugh Gilmore Primitive Methodist Chapel
Co. Durham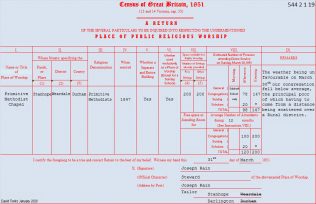 transcribed by David Tonks 2020
The picture shows the Hugh Gilmore PM Chapel at Stanhope on the cover of the Darlington District Meeting handbook for May 1903, which is held in the collection of the Weardale Museum.
A picture of this chapel is mistakenly published in Kendall's History of the Primitive Methodist Church (Vol 2, p142) as being the chapel at Westgate.
The Weardale Museum
The Weardale Museum is situated in the old manse to High House Chapel in Ireshopeburn (Wesleyan). Our collection includes records of both the Wesleyan and the Primitive Methodist movements in Weardale. We also have a genealogy database on site which provides a very comprehensive record of all of the people living in the parishes of Stanhope and Wolsingham including Primitive Methodist Ancestors.
Our records are not available online, interested parties have to make a visit to our museum to access them. Please follow the link below for more information.