Bakewell (Water Street) Primitive Methodist Chapel Derbyshire
The chapel was built in 1892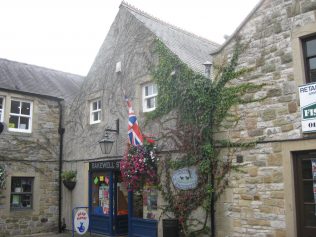 This chapel was still in use in 1928 but after that we know very little. It probably closed in the 1960s. It was converted into a dairy and then became a newsagent as it still is in 2014.
In Bakewell the Primitive Methodists broke away in 1811 after being disciplined for street preaching. They were known for their emotional services when there was a lot  of joyful shouting. Membership was made up of the employed many of whom developed skills in preaching.  A lot became orators for the trade unions. In 1822 there was a large gathering presided over by a special minister (we do not know who).There was no chapel in Bakewell at this time. A few adherents met in members cottages. The meetings died off until 1836 when a few more members joined. These meetings too died off until 1878. Now 29 members revived them again inspired by Joshua Barrett, a draper, and a schoolmaster named Unwin.
In 1879 the group rented the Oddfellows Hall as a chapel and 10 years later a Sunday School was started. In 1892 the chapel in Water Street was built. There was no morning service as most of the congregation were working for their employers. We presume the services were held in the evenings.
Photos taken October 2014
OS Map Ref:119:SK219686