Castle Gresley: High Cross Bank Primitive Methodist chapel
14 Mount Pleasant Road Castle Gresley DE11 9JF
Christopher Hill Jan 2017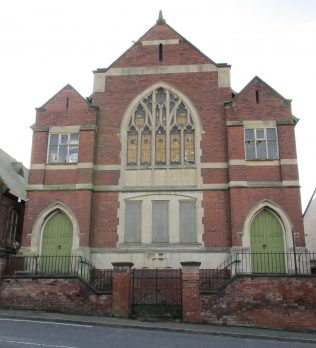 Christopher Hill Jan 2017
Christopher Hill Jan 2017
Christopher Hill Jan 2017
In January 2017, High Cross Bank Primitive Methodist chapel in Castle Gresley consists of two buildings end on to the street with further buildings behind.
The chapel appears on Ordnance Survey maps in 1883-7, located opposite the end of Chapel Street.  By 1903 there is a Sunday School added. The larger building, on the right, carries the date August 30th 1905 on a foundation stone.
The chapel closed in the late twentieth century.  The society joined  with the former Primitive society at Linton Heath and the former Wesleyan society from Station Road, Church Gresley, to form Trinity Methodist Church, which was still active in 2015.  The new society used the Linton Heath building.
On Google Street View in June 2011 the High Cross Banks premises are disused.  In January 2017 they are still disused and in need of love and attention – see the pictures.  There is however a bright shiny chain locking the iron gates giving access to the yard on the left of the buildings.
What will happen to the buildings? 
The carved stones on the front of the larger building carry the following inscriptions:
Laid by Mr S Winterton
Laid by Mr J Sibson
Laid by Mr J Moore
Laid by Mr H Sabine
Laid by Mr W Ball
Laid by Mr W Illsley
Laid by Mr H Chadbourn
Laid by Mr W Cotton
Laid in memory of the late Mr L Jackson by Mrs Johnson and family
This stone was laid by Mr W Bourne August 30th 1905
Laid by Mr D Knighton
Laid by Mr W Smith and family
Laid by Mrs W Timms Sen
Laid in memory of the late James Astle by his family
Laid by Mr W Gilliver
Laid by Mr C Faulkner
Laid in memory of the late Mr George Rogers by his wife and family
Laid by Mr HH Robinson
Laid in memory of the late Mrs A Butler by four members of her family
Laid by Mr J Wright
Laid in memory of the late Richard and MA Cleaver by their family
Laid in memory of the late William Topliss by his wife and sons
Laid by Mrs J Hikes (?) on behalf of the family