Derby Kedleston Street Primitive Methodist Church
1848-1975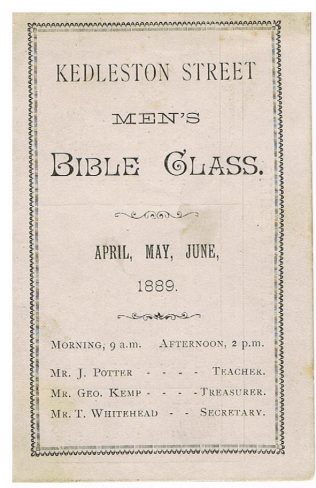 Handbook of the Primitive Methodist Conference 1931; Englesea Brook Museum
In 1913, the Primitive Methodist Conference met in Kedleston Street Church. Known as Bourne Chapel, it was the largest PM Church in Derby, and became the head of the Derby Second Circuit in 1871.
Preaching began in a house in Brook Walk, and the early Primitive Methodist society then moved to Gisbourne Street. The first chapel was built in 1848, during the ministry of Rev John Hirst, and his colleague Rev S Bottomley. This was followed by a great revival, with people walking miles from villages and nearby towns to share in the services. It is said that William Hickingbottom, 'a Diamond in the Rough', walked here from Belper.
The second chapel, seen here, was built in 1871, during the ministry of Rev I J Hardy, at a cost of £6,474. The school room was added in 1899, during the superintendency of Rev T Richards, at a cost of £2,200, providing accommodation for 1,000 children.
The church has now been demolished.
Editors note{CH} The Primitive Methodist magazine tells us more about the 1848 chapel. In the September 1848 Magazine (page 562), J Hurst tells us that the chapel was opened on July 9th 1848. The Magazine for 1851 (pp 53-54) contains an account of the re-opening of the first 1848 chapel.  Almost immediately it was too small and was rebuilt; the re-opening services on September 1st, 8th and 22nd September 1850 were well attended; on 22nd, "hundreds were unable to gain admittance."
Source
Primitive Methodist Church, Official Handbook of the 94th Annual Conference, appointed to be held in the Kedleston Street Church, Derby, June 11th to 20th, 1913