New Brimington Mount Tabor Primitive Methodist chapel
Victoria St, Brimington, S43 1HY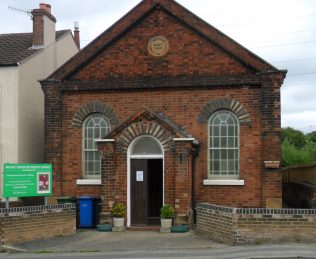 Christian Messenger 1913/73
The 1881 Primitive Methodist magazine contains an account of the laying of the foundation stones for the new Primitive Methodist chapel at New Brimington. It tells us only that it would cost around £400.  David Slater, who has written the Mount Tabor newsletter for over 70 years, tells the story of the chapel.
"Mount Tabor was built when Brimington was extended northwards to provide housing for the huge Staveley Coal and Iron Works. This development of New Brimington increased the population of the village by a third. Mount Tabor, opened in October 1881 was built in 13 weeks. In 1904 a schoolroom was added, matching the existing church. High on the schoolroom wall is the unusual slogan "Climb Higher Remembering God" reflecting the self-improvement movement of the day. It was put there in 1904 by the Superintendent, Mrs Clara Tissington. Huge partition doors opened to allow the church and schoolroom to become one large space, useful for the annual Sunday School Anniversary, which was extremely popular. In 1949 an ex-army Nissen hut was erected to house expanding youth work. This was replaced in 1969 by a spacious Hall."
The 1913 Christian Messenger magazine gives a little more detail.  "At Brimington, a village inhabited by workers at the great Staveley Iron Works, and situate about two miles from Chesterfield, there are three Primitive Methodist chapels …. When it is remembered that Brimington has only about 6,000 inhabitants, this is somewhat unique. It is only right to observe, however, that it is one too many. … … At all three places there are very successful Sunday Schools.
In the early days Brimington had a somewhat chequered history. It was once given up as a forlorn hope, and came off the plan; the quarterly meeting recording a resolution to the effect that there were no prospects. But in 1841, the Rev. G. Booth, the father of Dr. Booth, who for so many years has been the superintendent of the Holywell Cross Sunday School, and is well known to the Connexion as the Editor of the Hymnal Tune Books, was stationed there, and Brimington has never looked back. Three chapels were built, Bethel in 1864, Brimington Common in 1867, and New Brimington in 1881."
The 1916 Ordnance Survey map shows a Primitive Methodist chapel on Victoria Street.  New Brimington Methodist church is still witnessing in 2020.
Reference
Christian Messenger 1913/73
Primitive Methodist magazine 1881 page 571