Thurvaston Primitive Methodist Chapel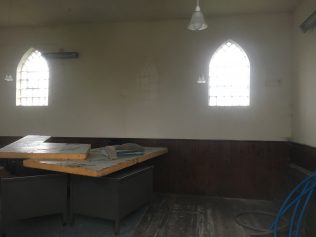 Thurvaston Primitive Methodist Chapel, is at Lane Ends, near Cropper. It was in the township of Osleston, in the parish of Sutton on the Hill, Derbyshire.  It was built in 1838, and is  a listed building.
It closed before 1940, and is currently being used as a store.
The Chapel is recorded in the Religious Census, taken on 30 March 1851. The following information was given by Thomas Thomas, minister, Victoria St, Burton on Trent, Staffs. [HO129/375/5].
70 free seats and 40 other seats, and free standing for 30.
Attendance:  morning: general congregation 19; afternoon: general congregation 100; evening: general congregation 136. Average attendance: 130.