Leytonstone Primitive Methodist Chapel
Gainsborough Bridge, Leytonstone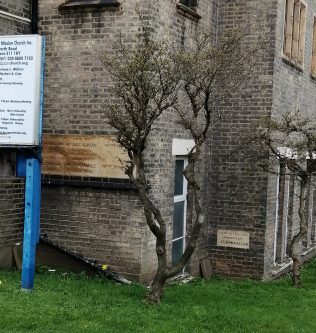 Primitive Methodist Magazine 1908/550
Leytonstone now in the London Borough of Waltham Forest, but formerly in Essex grew rapidly in the 19th Century once the railway opened there in 1856.
The Primitive Methodist Church was opened in 1902 on a prominent road junction in the Wallwood Estate near Gainsborough Bridge. The imposing two storey chapel was designed by the church's first minister, Rev Clark Hallam who had trained as an architect. The foundation stones had been laid in a ceremony on 31 October 1901.
As funds were raised to pay for the building the Tower Hamlets Independent and East End Local Advertiser reported an innovative fundraising banquet which it stated was 'the first ever held in connection with Primitive Methodism in London' and 'The experiment was fully justified by its success'.
An organ was installed in 1909 with funding from Andrew Carnegie. The chapel was damaged during World War 2. It is now Pentecostal City Mission Church
Sources and References
Tower Hamlets Independent and East End Local Advertiser: 26 October 1901; 3 January 1903
British History Online – Victoria County History Essex Volume 6
The History Files website – Churches of Leytonstone