Southend Pleasant Road Primitive Methodist Chapel
Essex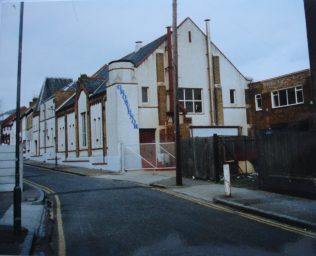 The Primitive Methodists first met in a small house in Southend that was used for the sick where only four members met in one room for Primitive Methodist Society meetings.
From this it was decided that they would need a permanent site as membership began to grow. In 1894, Thomas Jackson began looking for a church site and this site was acquired in 1896 on Pleasant Road. The stone-laying soon followed in 1898 and the chapel was first opened for service on 25th May 1898. The Trustees took great time and attention into building and establishing this chapel – even including the purchase of a comb and brush for the minsters to use. In 1905, the Trustees agreed that the Gospel Temperance Society could use the school room on Saturday Evenings for the meetings.
However, the Church closed in 1938 and in 1994 was recorded as being used by Grosvenors Rock Co.
Sources
Brake, G. T (1994) Pleasant Road, Bournes Green, York Road and Branksome Road, The History of the Methodist Church in the Southend and Leigh Circuit, Essex: The Rochford Press, pp.20