Dummer, Hampshire
Primitive Methodism as I see it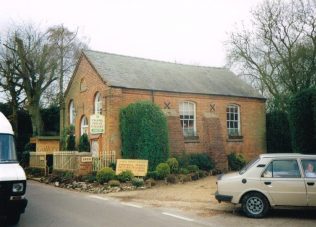 In 1835, the year the Mitcheldever Circuit was formed from the Shefford Circuit, Dummer was one of the preaching places on its Plan.
In 1841 a Protracted Meeting was held "which was crowned with the blessing of God; many were converted and we have an increase of eleven members." A "protracted meeting" was when a chapel was open for up to a week every day or every evening, and one or two people would be present at all those times to speak with any who came in.
Even in those days of vibrant blessing, the Primitive Methodists were still dealing with frail and faulty human beings. The Circuit committee frequently discussed ways to deal with gossip, quarrelling and bad relationships among members and they agreed in September 1842 that a man and a woman (I withhold their names) "of Dummer should be put out of Society for bad conduct." It is not specified what the conduct was.
By 1851 Dummer had 16 full members and 15 members on trial.
The chapel was built in 1863, and enlarged in 1867.
In time the society faltered, and my father remembered preaching there, probably in the 1950s, to a Sunday congregation of two people, and the chapel is now closed.
In my eyes it speaks of what Primitive Methodism was and should still be: in the village centre, yet simple, not vaunting outward show but with an unadorned dignity: a place where people come to find forgiveness, cleansing and new life, and know God in 'the beauty of holiness'; where they could sing (as we did in church last Sunday):
Lo! God is here! Let us adore,
And own how dreadful is this place!
Let all within us feel his power,
And silent bow before his face;
Who know his power, his grace who prove,
Serve him with awe, with reverence love.
(Wesley's Hymns 494)