Easton Primitive Methodist chapel
Easton WINCHESTER SO21 1EG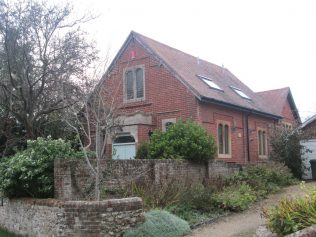 Revd David Sharp ENBPM:2020.146
This Easton is north east of Winchester.  The first Primitive Methodist chapel in the village was opened in Magdalen Lane in 1840. The Return from the 1851 Census of Places of Public Religious Worship shows that it held 100 people and the attendance on Census Sunday was 95.
A second chapel followed in 1870.  This became used as a bakery and was demolished in 1969.
The chapel in the photographs is the third in the village.  It was opened in 1909 – the year of Rev David Sharp's postcard showing folk gathering outside the chapel – and served until 1969.  At the time of the photograph it was used as a house.  It is still a house in Google Street View in July 2011.