Southampton, St Mary Street Primitive Methodist Chapel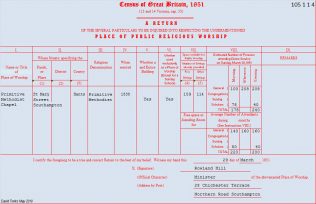 The Southampton Primitive Methodist Chapel in St Mary Street was purchased in 1838. Its finances were always tight but by 1847 they had added a gallery, and "fitted up the school-room for a self-supporting school on the British system" (Hampshire Independent 15 May 1847).
The chapel was reopened after enlargements (more work on the Sunday School was not yet completed) 8 January 1854.
With the help of Robert Tasker of Andover, whose wife Elizabeth was a local preacher on the Southampton Circuit, two side galleries were added in 1863.
At the Quarterly meeting, 6 June 1881, the St Mary Street Society and Trustees were given "liberty to purchase three houses on South Front" The St Mary Street chapel was advertised for sale by private contract in July 1884: "The property is freehold, and being situate in one of the most crowded thoroughfares of the town, it affords a capital site for business, having a frontage width of about 30 ft. with 60ft. depth. There is a Schoolroom under the Chapel, and the whole site is excavated to a depth of about 7ft. below the level of the pavement. All fixtures are to be included."
Editor's note (CH 04/2020)
You can read about the replacement South Front chapel here.