Southampton Primitive Methodist chapel
Two sources: same chapel?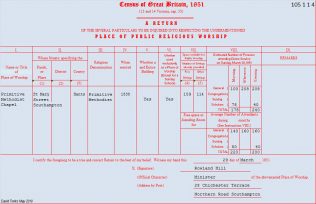 The 1851 Census of Places of Public Religious Worship includes an entry for a Primitive Methodist chapel in St Mary Street, Southampton. It was erected in 1838 and accommodated 159 in free seats and 114 in other seats.  It needed most of these – average attendance was 140 in the morning services and 160 in afternoon and evening services.  There were 80 scholars in the morning and 40 in the evening. The return was completed by the minister, Rowland Hill (probably not the stamp man) of 28 Chichester Terrace, Northern Road.
In the Primitive Methodist magazine of 1856 T Powell writes about the re-opening of Southampton Primitive Methodist chapel after renovation. "Our chapel here has lately been very much improved, our kind friends, Mr. R. Tasker and Mr. R. Hill, having expended about £25 in improving the walls and repairing the ceiling. We have also had the whole of the pews, pulpit, gallery, door, etc., painted and grained, at an expense of about £27 and have also had a ventilator put in – an air-tight tube – to reach from the opening in the ceiling above the roof. "
Celebrations including services and a tea meeting for 140 started on Sunday, May 18th, 1856, when the Rev. B. Hartley preached. Other addresses came from   Rev. A. M'Laren, B.A., R. Hartley, Rev. Mr. Russell, from Glasgow, and Mr. Hill.
Do both these accounts relate to the same chapel? What else is known about this chapel or chapels?
Reference
Primitive Methodist magazine  August 1856 pp.499-500