Douglas Loch Parade Primitive Methodist Church
Isle of Man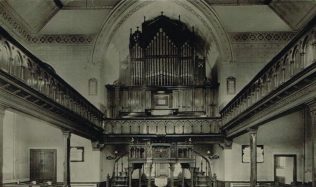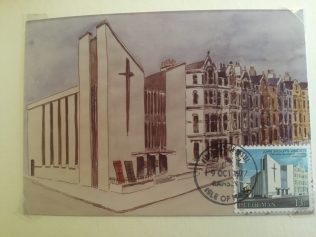 Built in 1878, the Loch Parade Primitive Methodist Chapel was one of the first buildings on the then new Loch Promenade, and its tower became a landmark. It was designed by a local man, Thomas Keig.
This was the home church of Robert Wilfrid Callin, who candidated for the ministry in 1906. He preached for the last time in this church in 1950.
The building was demolished in 1975.
It was replaced on the same site by Promenade Methodist Church which opened in 1976.
There is an account by Thomas Jobling in the 1843 Primitive Methodist magazine of the opening of what was probably the first Primitive Methodist chapel in Douglas.
"On Sunday, October 9, we opened our chapel at Douglas.  The congregations were large, and the collections good.  The chapel is large and commodious, and will be in easy circumstances.  Our prayer is, that the prophecy respecting the second temple, may be fulfilled in ours: "The glory of the latter house shall be greater than the former, and in this place will I give peace, saith the Lord of hosts."  Lord, grant it.  Amen."
The 1877 Primitive Methodist magazine records  the laying of the memorial  stones for a new Primitive Methodist chapel on the Loch Parade, Douglas. The magazine editor comments that the Connexion ought to establish a fund for tourist places, rather than depending on the chance of the local society.  He commended the Wesleyans for doing this and "acting more wisely."
Reference
Primitive Methodist Magazine, 1843 Page 66
Primitive Methodist magazine 1877 page 569