Bacup; North Street Primitive Methodist Chapel
head church of the circuit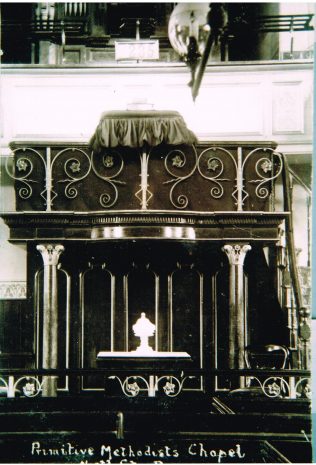 Primitive Methodists in Bacup met in rooms in Union Street until they were able to build their own premises in Brickfield with the foundation stone being laid on Good Friday 1853 and the chapel being opened on Good Friday the following year. The entrance was in North Street. It seated 578. Membership rose from 125 in 1854 to 204 in 1862  and 215 later that year.
A  Church Minute in January 1858 records that Jane Brierly be dismembered for pregnancy. Whether she was an unmarried mother or not it seems a very improper way for a chapel to deal with a pregnant lady. Dismembering has a far more hideous meaning than it did 150 years ago.
North Street Prims welcomed a number of special visitors. February 5th 1871 saw the visit of Colour-Sergeant William Mason of Leeds in regimental uniform. He had permission from Queen Victoria and the Duke of Cambridge to attend and he spoke on 'The Confessions of a Soldier'. This talk raised £5.00 on behalf of the chapel at Stacksteads.
In 1877 North Street hosted a visit from the first agricultural labourer to become an MP. Joseph Arch a PM local preacher for over 30 years was the founding member of the Agricultural Labourers' National Union. (He was also described as the Warwickshire peasant preacher). On the 27th January 1877 he had spoken at the second annual soiree of Bacup Liberal Club. The next day, Sunday evening, he preached to a crowded congregation at North Street. (The North Street organ was one that needed to be pumped by an organ blower. Church Minutes reveal a decision to pay the bellows blower 5/- for services during 1879. Not long afterwards they doubled it to10/- a year as from Whit Sunday 1882).
In July 1900 the Bacup Times included a report of an 'Unique Affair'—'a tea meeting and surprise concert conducted entirely by married ladies which proved a thorough success, the ladies acquitting themselves in an admirable manner'. They even sang a piece entitled 'Have you all had a good tea?' and for good measure sang it again as an encore at the end.
February 1924 saw some dramatic recitals by Robert Donat, teenage son of a Polish immigrant, who was to become the heart throb of the 1930s. Although ' a versatile stage and screen actor' he was unfortunately a chronic asthmatic and died in his early 50s in June 1958.
Declining interest and lack of support led to the end of North Street with closing services on 28th December 1941. The premises were taken over by a section of the Bacup Home Guard and later by the Electricity Board until a few months before the building was demolished in 1952 – but the registration for marriages wasn't cancelled for another 20 years!
---
Editor's notes:
1. There is an account by James Cheetham of the opening of Bacup Primitive Methodist chapel in the Primitive Methodist Magazine of September 1854 pp. 502-503.  It describes the chapel and names many of the people involved.  Donors included Mr & Mrs Whitfield, Mr Maden, W Sutcliffe Esq., Messrs Smith, GL Ashworth, Messrs Hawarth and Dawson, Mr James Hawarth, late Mr John Parkinson, R Munn Esq., John Hayle Esq, late Mr George Hawarth and Mr J Campe (CH)
2. In 1860 the chapel was closed for painting and improvements. It was re-opened on 30th September 1860 when preachers were Rev. G. Herod, of Haslingden and Mr. J. Botton. of Knowlwood. Mr Dearden played the organ. W Ball gives details in the 1860 November Primitive Methodist magazine (page 690)