Rochdale Jarvis Street Primitive Methodist Chapel
This chapel was built in 1887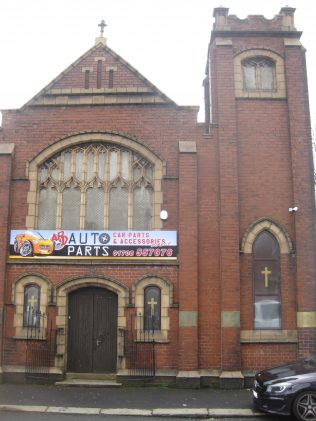 This is a large brick built chapel with a tower. It is in the middle of a residential area. Date of closure is unknown.
In 2016 it advertises itself as being 'Auto Spares' – car parts and accessories but there is little indication that this business is still being conducted from these premises.
Photos taken March 2016
OS Map Ref:109:SD898144
Additional information (CH 08/2020)
The February 1887 Primitive Methodist magazine records the laying of the memorial stones for Jarvis Street school-chapel.  It was planned to cost £600 of which half had been raised.
Additional research (Chris Wells March 2023)
Jarvis Street is a side road off Whitworth Street, about ⅔ mile NNE of Rochdale town centre.  The chapel is at OL12 0JE
1884:  There are a number of reports in the Rochdale Observer from January 1884 that refer to the Primitive Methodist Sunday School, Whitworth Road, Rochdale – presumably a forerunner of the 1887 chapel.
1890:  The chapel can be seen on the 1890 50" OS Town Map (close to the top of the map, towards the left) where it is labelled 'Methodist Chapel (Primitive) (seats for 250').  The building scales at 34' frontage x 51' (chapel) + 12' (back rooms).
1898:  According to Past and Present Methodist Chapels, the National Archives hold records for the period 1898 to 2015.
1915:  According to the Rochdale Observer of 11 December 1915, 'A GRAND FLORAL BAZAAR will be held in the NEW SCHOOLROOM …'.
1928:  By 1928 25" OS map, footprint had enlarged to 47' frontage x 91' deep overall (the full distance between Jarvis Street and Jepheys Street).  Had the enlargement taken place in 1915?
A photograph of the chapel before it closed can be seen here.