Leicester Claremont Street Primitive Methodist Church
Belgrave, Leicester
Primitive Methodist Conference Handbook 1907
Christopher Hill February 2016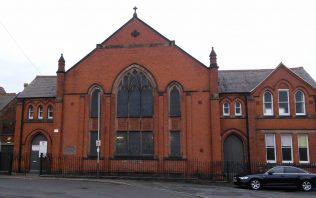 Christopher Hill February 2016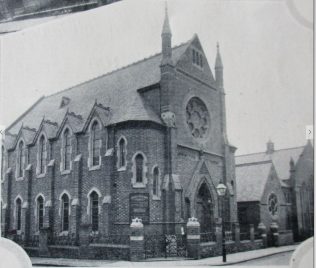 Handbook of the Primitive Methodist Conference 1927; Englesea Brook Museum
Claremont Street Book of Remembrance
George W Meadley, 'Minister's Message', Quarterly Guide: Claremont St Methodist Church, Jan-Apr 1940
'In the year 1820 – five years after the Battle of Waterloo, and when the country was seething with discontent – a few poor labouring people met in a cottage on the village green of Belgrave, to tell each other that they had been "washed in the blood of the Lamb". Standing on the bare brick floor, they proudly proclaimed that they were heirs to all the riches of God.
Their numbers soon became too large for the cottage kitchen, so they promoted themselves to a disused cowshed in Crane's yard on Checkett's Road.
Then in 1838 they bought a plot of land and built a little Chapel. In 1877 the land on which the present building stands was bought, and Claremont Street Church was opened on February 26th, 1880. In 1904 the "Hallam memorial School" was built.
The present property is valued at £22,100. There are 260 Members, 19 Class Leaders, 450 Sunday School Scholars, and 69 Teachers.
How has it been done? The chief explanation is simple: they had a desperate concern for the souls of men. They were fanatically zealous to proclaim the power of Christ to save men to the uttermost. This was how it was done.
How should the Diamond Jubilee of a Church with such a history be celebrated? Surely by emulating the spirit of the founders.'
The chapel was demolished in 1994 and the site is now a housing development.
Source
For a full history of the church, with photographs of many of the members, see: G W Meadley, 'A Book of Remembrance 1880-1930: Claremont Street Primitive Methodist Church'. There is a copy in the Library at Englesea Brook Museum.