Ryland Primitive Methodist chapel
Eastfield Lane Welton by Lincoln LN2 3ND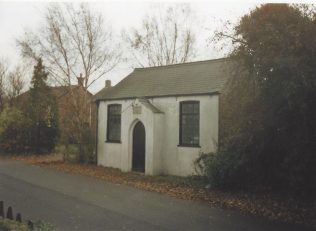 Ryland was initially a hamlet in Welton-by-Lincoln parish, Lincolnshire, north north east of Lincoln.
The first Ryland Primitive Methodist chapel was opened in 1841. 
The primitive Methodist magazine of 1859 includes an account taken originally from the Lincoln Gazette of the opening of a new chapel in Ryland in 1859. It records that the society had met  for 20 years in the home of Joseph Robinson  but they had bought land from Mr Rands for £18 to build a chapel. The builders were Mr Bell (Ingham) and Mr Robinson (Dunholme).
Opening celebrations from May 29th 1859 included services and tea in a marquee in Mr Penrose' field. Speakers included Rev J Woodcock, Miss Quarton, Rev P Daykin,  R Ducker, WJ Burley, Serjeant Mason, Mr Howlett (Scotter circuit). 
The total cost of the new chapel was £100, of which they had raised £30-£40. Donors included Mrs Dawber (Waddington), Sheriff Smith, Mr Neave and T Chapman. 
It closed in 1959 and at the time of Keith Guyler's photograph in the 1990s it was unused.
location: TF 021 800
---
Reference
Primitive Methodist magazine August 1859 pages 500-501