Kelling Primitive Methodist chapel
The Street, Kelling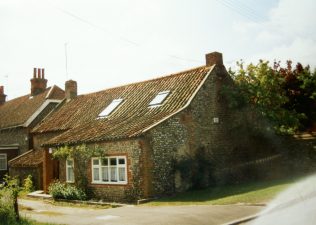 Kelling Primitive Methodist chapel was founded in 1849 in the Briston circuit and William Peacefull writes about it in the Primitive Methodist magazine. He tells us that the chapel accommodated 130 people and was worth £80 of which they had borrowed £50 on a note of hand, signed by the trustees.  There was a special thanks to Mr Edmund Nurse who had emigrated to Port Phillip in Australia.
The chapel closed in the 1950s.
At the time of Keith Guyler's photograph it was a house.  I've marked the location identified by the Ordnance Survey grid reference on the map but cannot find the building on Google Street View in 2009.  Is the location correct?
location: 093426
Reference
Primitive Methodist magazine October 1850 page 627