Kenninghall Primitive Methodist chapel
East Church Street, Kenninghall NR16 2EP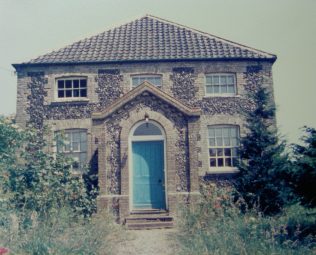 Kenninghall Primitive Methodist chapel is on East Church Street opposite Grange Farm.
Oliver Jackson writes about its opening in 1853  in the Primitive Methodist magazine for December 1853. He tells of Mr R Murton then of Wilby who in 1847 was "cruelly and violently ejected from his dwelling" and moved to Kenninghall.  As there were no Primitive Methodists there he urged Rockland circuit to mission the market town; they did so and following a revival under J Winkfield and O Jackson  in the winter of 1852.
On the crest of this wave, a chapel was built and opened in October 16th 1853. Opening sermons were preached by W Yeadon, Rev O Jackson Rev Warnes of Diss, , R Easons and E Allen of Rockland. The Earl of Albermarle gave £5 and Mr Bailey £5 in materials.
The chapel served until 1948. After closure it was used as a grain store. On Google Street View in May 2011 it was still a farm store although you could see work was starting on it and it has since been converted into a house.
The Wesleyan chapel in Quidenham Road (location: 037863) was opened a year after the Prims chapel, was enlarged in 1873 and served until 1980. After closure it became a squash court.
Keith Guyler's picture shows Kenninghall Particular Baptist chapel which is on West Church Street (Ordnance Survey Grid reference: 040801). Its location is clearly marked on the 1946 one inch Ordnance Survey map although I am unable to find it on Google Street View in 2009. 
location: 045857
---
Reference
Primitive Methodist magazine December 1853 p.749-75
This page has been redrafted to incorporate information about Kenninghall chapels provided in the comment by Bugbear. Keith Guyler's notes originally identified the photograph as the Primitive Methodist chapel rather than the Particular Baptist, even though his notes about the date and use as a farm store relate to the Prim chapel.  
The wall plaque looks like a replacement of the original positioned at the time of conversion into a dwelling.