Sedgeford Primitive Methodist chapel
Heacham Road Sedgeford PE36 5LU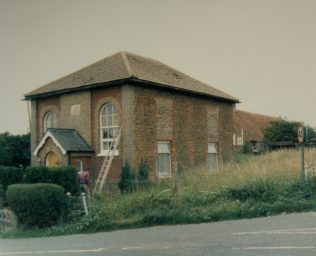 Sedgeford is south east of Hunstanton.  Sedgeford Primitive Methodist chapel was opened in 1861. Ephraim Blake records the event in the Primitive Methodist magazine. Preachers at the opening on 28th September 1861 included Revs. T. Charlton, J. Winkfield, E. Blake, and Mrs. H. Chipperfield, of Linstead, Suffolk. 
The chapel cost £170 with around £70 expected to be raised.
The chapel went out of use in the early 1930s and was converted to a residence by the mid 1930s. At the time of Keith Guyler's photograph in 1987 it was still in use as a house.
The Norfolk Heritage Explorer website reports that the former chapel burnt down in December 2012. The report on the fire damaged shell concluded that it was not cost effective or structurally viable to utilise the surviving masonry shell. A photographic survey of the structure was carried out ahead of demolition.
location TF 708366 
---
Reference:
Norfolk Heritage Explorer website  accessed September 8th 2015
Primitive Methodist magazine December 1861 page 744