Newcastle upon Tyne, Lemington Primitive Methodist Chapel. Northumberland
This brick built Chapel is in Algernon Road. It was built in 1891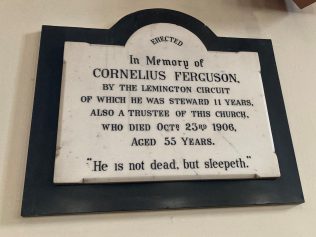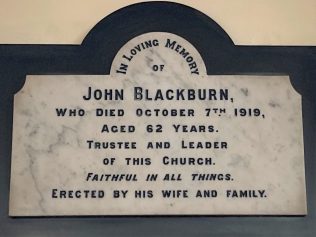 The ground floor of  the Chapel is taken up with a series of rooms, which includes a kitchen. The worship space is on the first floor and is accessed from  stairs (see photos 5 & 6). It has not been used for worship for over ten years except for the occasional wedding. In 2023, many of the congregation are elderly and unable to climb the stairs so worship takes place on the ground floor (see photo 9).  Sadly, there are also various problems with the building requiring  refurbishment.
Sunday worship has a congregation of between twenty and thirty people. However, the Chapel is very active in other ways. It has a wonderful Christian outreach within the local community, seven days a week. In 2023 it provides a food bank, hot meals and a free 'Clothing Bar' for those who need it.
The row of holly trees along side the Chapel (see photo 3) were reportedly the same age as the Chapel.
Photographs 7 & 8 show the memorial stones which are on the wall in the worship space on the first floor.