Newcastle upon Tyne Kingsley Terrace Primitive Methodist chapel
Kingsley Terrace, Elswick NE4 6PJ
Handbook of the Primitive Methodist Conference 1924; Englesea Brook Museum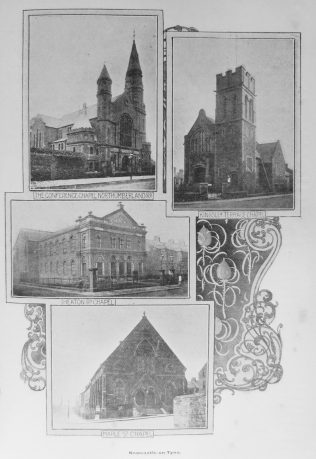 Primitive Methodist Magazine 1903/477
Newcastle Kingsley Terrace Primitive Methodist chapel opened on New Year's Day, 1898.  It was the successor to earlier buildings in Arthur's Hill and West Street.
The site is now used as a children's playground.  There is no evidence that a church once stood here.  In his account of Northern Primitive Methodism, W Patterson tells us the following about the development of this chapel:
"Though the first Primitive Methodist meeting was held at Arthur's Hill in 1834, when Mary Holmes started prayer meetings, it was not until 1842 that it was put upon the plan for regular preaching services, and much good was done in William Street. In 1864 the increasing band built a chapel in West Street. Many scenes were witnessed there which will never pass out of mind, not the least being the times of refreshing during Miss Bulmer's mission in November, 1891. Clark Hallam did good work there before going into the ministry. After long thought, a new church and school were built in Kingsley Terrace, in 1897, the handsome sanctuary being opened on New Year's Day, 1898.
John Harryman Taylor did a great and lasting work in the building of "Kingsley," and faithful men and women represented by the Reeds, the Waltons, the Vartys, the Allisons, the Thirlwells, the Robsons, the Stobbses, the Kirtons, the Wilsons, and others sustained his hands. Men of vigour and ability such as Anthony Oates, William Spears, Henry Potts, Thomas Dodds, Joseph Longstaff, and John Dodd have joined the front rank men there during the ten years; and the ministries of Sister Jessie, aided by the wives and daughters of the officials, have given the added fragrance of human sympathy and help to the dignity, beauty, and fervour of the worship in the fine church."
The opening of the chapel is recorded in the Primitive Methodist magazine of March 1898. We are told the chapel was in a densely populated locality  and was successor to the previous chapel in West Street.
It was expected to cost £7,000, most of which had been raised.
Reference
Primitive Methodist magazine March 1898 page 234