Hucknall Watnall Road Primitive Methodist chapel
39 Watnall Rd, Hucknall NG15 7LD
Handbook of the Primitive Methodist Conference 1916; Englesea Brook Museum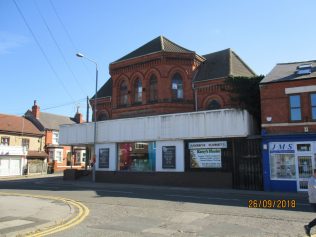 Watnall Road Primitive Methodist chapel in Hucknall (known at one time as Hucknall Torkard) was opened in February 1896.
It cost £4,000 and was built on land purchased from the Duke of Portland.
Previously there was an 1857 chapel also on Watnall Road.
After closure some time after 1970, the building passed through various uses including as a supermarket and a Jaeger outlet store.  During this time large new signage which has not worn well was added to the front of the building, but otherwise it is little changed externally.
In October 2018 the chapel and the former Sunday school at the rear have been subdivided into small units including Kerry's Florist and  a printers. The chapel was on the upper floor which is now in use as a martial arts studio.
The building retains many of its carved tablet stones, including:
D Flatt – Young Womens No 2 Class
J Dawkins – Young Mens Bible Class
W Dabill – Young Womens Bible Class
For the Sunday School – S Cox Supt.
Laid by Mrs H Harper
WG Spencer
D Vann
Intriguingly, amongst the foundation stones there is a section of wall where names are carved into individual bricks.  Although badly weathered, some can still be read.
More information can be found on Maureen Newton's Hucknall Torkard History website – see the link at the foot of this page.
Reference
Hucknall Torkard History website accessed March 23rd 2016 http://www.hucknalltorkardhistory.co.uk/methodist_churches.htm