Standlake Primitive Methodist chapel
The Green, Standlake, WITNEY, OX29 7SD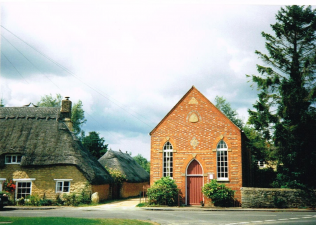 British History online tells us that:
"Primitive Methodists held a mission at Standlake in 1845, and in the later 1850s a minister from Faringdon (then Berks.) preached and held meetings there regularly before a 'large congregation'.  A meeting house at the Green was licensed in 1857, and a chapel of variegated brick, with 150 sittings, was built on the same site c. 1864-5 and licensed in 1866. It was transferred from the Faringdon to the Witney circuit c. 1917. Dissent generally in the parish was said to be decreasing in the later 19th century,  though 40 Primitive Methodists were reported in Standlake in 1918 and still in 1932."
Sunday services stopped in 1970 but the chapel remained in occasional use in 1994.  In Google Street View in 2011 it is in use as a house.
---
Reference
Bristish History online accessed February 4th 2015