Butler's Bank Primitive Methodist Chapel
SY4 4HG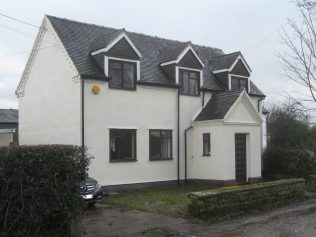 Butler's Bank Primitive Methodist chapel was first opened on June 2nd 1843.  A society had been established some 20 years previously but then a plot was bought from Mr Harris who returned 10 shillings of the one pound 10 shillings paid. Opening preachers included Thomas Brocas of Copthorne House, H Leech and Christopher Hicks. An October tea meeting for  over 200 helped raise funds; the meeting was so large that a tent was erected in front of the chapel.
The chapel measured 8 yards by 6 yards and cost £84/8/0½ of which they had raised around half. The chapel was successful – so successful that the first anniversary service were held in a field as the chapel was not big enough to hold the congregations!
It served a scattered neighbourhood, but the society grew steadily. Then, in 1858-9, 80-100 people "found salvation through faith" in the year and the chapel was no longer big enough, even when some found their way to other chapels.
As a result, they enlarged the chapel 6 yards x 3 yards. It was re-opened on July 10th 1859. Speakers at the re-opening were WE Saunders and J Timmins. The occasion is described in the Primitive Methodist magazine by G Middleton.
There is a picture of the chapel on the Shropshire non-conformist chapels website. The chapel is marked on 1:2,500 Ordnance Survey maps in 1881 and 1901 but it closed in the 1950s. The building still exists, although heavily disguised  as a house. It's the porch roof that gives it away.
Reference
Primitive Methodist magazine January 1844 page 24
Primitive Methodist magazine January 1845 page 78
Primitive Methodist magazine September 1859 page 561