Clive PM Chapel, Shropshire
Chapel opened in 1859, Closed in ????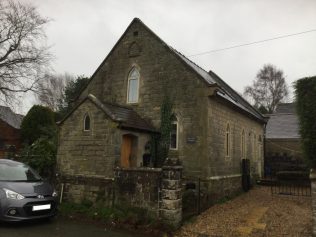 Photographs taken in April 2012, where it was found to be in a state of abandonment and dereliction.
Planning consent to convert the Chapel to a house was given, but so far no work has been carried out.
Any information on this Chapel would be gratefully received.
Revisiting Clive Chapel in December 2020, the Chapel had been tastefully converted into a domestic dwelling.
OS Map ref: 126: SJ513242
information added October 2017 by CH
William Wood writes in the Primitive Methodist magazine (September 1859 page 558) of the opening of the chapel on June 12th 1859. Preachers at the opening were Samuel Ward of The Wood, Oswestry, and Miss Darby, of Brierly Hill.
It measured 28′ 6″ x 21′ 6″ and cost £160.