Knockin Heath Ebenenzer PM Chapel Shropshire.
This chapel was opened in 1831 and is still in use in May 2012.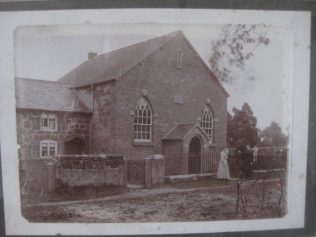 The land for this chapel was purchased in 1830. It is thought that the building work began shortly after and was in fact in progress in 1831 when a camp meeting was held nearby. 3000 people attended this and at the end of the following year it was recorded " the brethren scarcely meet but souls are converted." 100 people received the Sacrament on Sunday January 20th 1833. On October 21st of the same year Hugh Bourne preached  at Knockin Heath.
In 1844 more land was purchased to enlarge the burial ground which still surrounds the chapel today. According to the plaque the chapel was enlarged  in 1857 and in 1910 a dwelling house attached to the chapel was converted into a schoolroom
At the end of 1977 Knockin Heath had 22 members. They were drawn from a wide area – namely Dovaston, Kinnerly, Bicton and Shrewsbury. They were collected by Mrs. Vagg's mini bus. She also brought children in for Sunday School.
We wonder how many members there are today? Although the chapel is still in use in 2012 we do not think that services are held here every week.
Photos taken May 2012
OS Map ref:126:SJ355213
Information about this chapel can be viewed by following the link to Shropshire's Nonconformist Chapels.
Current information about the chapel can be seen on the Shropshire and Marches Methodist Circuit website.
The 1832 Primitive Methodist magazine contains an account by T Morgan of the opening of the chapel in 1831.  Opening services were held on December 4th 1831; preachers were T Morgan who took 2 services in the chapel and 1 in the open and  J Walford (1 service in the chapel and 1 in the open air).  Mr Thomas gave the land and local farmers carried all materials free.  The well situated chapel measured 18′(w) x 24′(l).
The 1858 Primitive Methodist magazine contains an account by J Prosser of the re-opening of the chapel after enlargement. Enlargement was necessary because a revival started in October 1856 which produced 30 new members. E Benyon prepared the plans; J Rees of Oswestry was the contractor after his quote of £168. Key to raising the money were Messrs Jones and Rogers; Mrs E Parry gave the clock.
Opening services started on 15th November 1857. Preachers included Rev G Stansfield of Chester, J Prosser and Thomas Guthery.
---
Reference
Primitive Methodist magazine 1832 p.70
Primitive Methodist magazine March 1858 pp.179-180