Madeley Primitive Methodist Church, High Street
'Mount Zion', opened 1865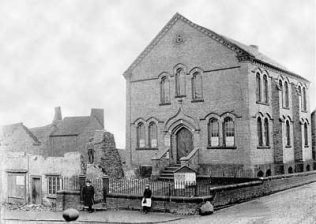 The Primitive Methodists began holding meetings in a 'preaching room' on Madeley High Street, in the 1840s. 
When they outgrew this it was replaced by a small chapel in Prince Street.
In 1865 a new chapel, 'Mount Zion', was built on the corner of High Street and Station Road, with a basement which was used as a Sunday School. 
The chapel originally housed a particularly fine organ.
The chapel closed in 1977, when the congregation joined with Fletcher Memorial Church, Madeley. The building fell into disuse until 1981 when it became a drop-in centre for the unemployed. In 1987 it was handed over to the local authority and used to meet the needs of the community. It was known as the People's Centre, and the Madeley Local History Group used to meet here.
Source
Madeley Local Studies Group http://www.madeleylocalhistory.org/index.html