Treflach Wood PM Chapel Shropshire
This chapel is now a house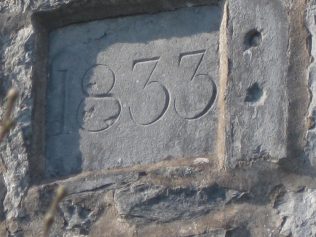 Hugh Bourne was present at the opening of this chapel in October 1833. In this stone-built chapel there was seating for 70 people with the possibility of another 40 seats in the schoolroom which could be opened up to the chapel.The pulpit was moveable – either backwards or to one side.
Mr.Gordon C. Evans a chapel steward recorded that when he attended the Sunday School there pupils were punished by being put through a trap door into the space under the schoolroom floor. He says it was a dark and lonely place for the first one down but livened up considerably if a girl came down next !! He also records that some of the boys used to sit on the form under the chapel clock and reach up to stop the pendulum. However they did not repeat it often as it meant Sunday School going on longer and then they would be late for dinner.
In spite of loyal service by a small group of members work declined at Treflach Wood in the 1970s and the chapel was finally closed on December 5th 1976. There were only 5 members.
The Primitive Methodist Magazine for 1840 (pages 432, 465) records more of Hugh Bourne's contact with this chapel, and I seem to recall reading about it a number of times in the archives of the Prees Green or Oswestry Circuits. For anyone with an interest in the society there, I think there is much that can be rediscovered.
Photos taken May 2012 and April 2014.
OS Map ref: 126:SJ260252