Whitchurch, Castle Hill, Primitive Methodist Chapel Shropshire
Date of this chapel seems to be 1866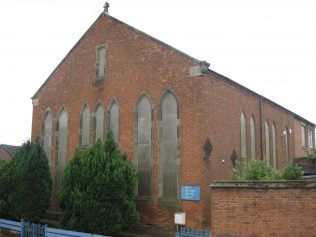 Elaine and Richard Pearce July 2015
Elaine and Richard Pearce July 2015
Elaine and Richard Pearce July 2015
Castle Hill Primitive Methodist Chapel was built as a replacement for an earlier building which was pulled down, maybe to build the present chapel. In 1924 an extension was built probably at the back. (see photo 1) During the first half of 2012 all the windows of the chapel were boarded up.
In 2015 there is little indication on the building as to this being a Primitive Methodist chapel. We know that there was a Primitive Methodist chapel on Castle Hill and that it was the head of the Castle Hill Circuit in the statistical records of the Methodist Church in the early 1940's. Over the doorway there are some very weather-worn words which are very difficult to decipher. (see photo 3) There is a notice for the North Shropshire Masonic Rooms, at the front so some parts of the chapel may still be used.
Photos taken July 2015
OS Map Ref:117:SJ541415
Information about this chapel can be viewed by following the link to Shropshire's Nonconformist Chapels.
The July 1842 edition of the Primitive Methodist magazine contains an account by Thomas Bateman of the opening of a number of chapels in the Burland circuit.  You can read it here:
http://www.myprimitivemethodists.org.uk/page/chapel_opening_in_the_burland_circuit 
Downloads
Transcription of Article in the Christian Messenger 1867