Darlaston Primitive Methodist chapel (iii) 1910
Third chapel Slater Street 1910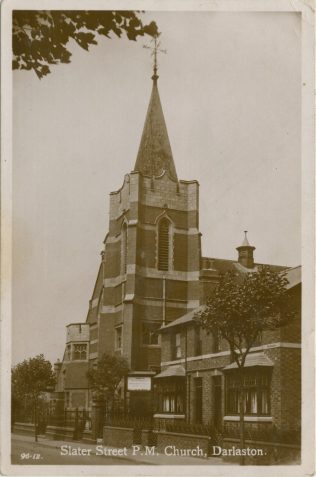 Englesea Brook Museum picture and postcard collection
The Darlaston Primitive Methodist chapel shown in the Englesea Brook collection photograph located in Slater Street (WS10 8EE) was the third in a sequence of chapels to be opened in Darlaston. The opening ceremony took place at 3p.m. on Thursday 14th April, 1910 with a service conducted by the Reverend Joseph B. Bissell, the first minister. The building was designed by Darlaston architect Mr. C. W. D. Joynson and built by Mr. R. Hammonds, also of Darlaston.
The first mission to Darlaston was in 1819 with Mr Samson Turner preaching in the open air.  The first Primitive Methodist chapel was in Willenhall Street, between Stafford Road and Rough Hay Road. This was replaced in 1836 by a larger chapel, seating 700, in Bell Street.
The church would have continued in Bell Street but in 1908 there was an underground coal fire which caused structural damage.  The building had to be demolished as it became unsafe.  This lead to the building of the Slater Street chapel.
The chapel was demolished in 1979 and replaced by the current smaller Slater Street Primitive Methodist chapel.
Thanks to Raymond Ella who has found the following information in The Builder Magazine of 1907
PRIMITIVE METHODIST CHAPEL, DARLASTON. –
A Central Primitive Methodist Chapel is being built in Slater-street, Darlaston, the amount of tender accepted for the work being [£] 3,300, the builder being Mr. R. Hammonds and the architect Mr. C. W. D. Joynson.
Reference
The Builder, vol. 97, issue 3467, July 17th, 1907, page 76