Halmer End (Central) Primitive Methodist Chapel High Street Staffordshire
The chapel was built in 1867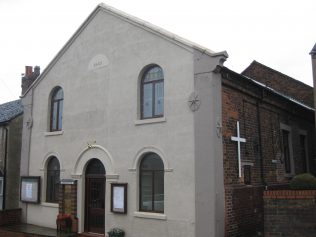 Englesea Brook Museum picture and postcard collection
Halmer End is a small settlement on what was once the Audley Coalfield. By 1851 both Wesleyan and Primitive Methodists were well established in the area. Mining was the main industry here and many of the miners and their families became Methodists.
The Primitive Methodist chapel at Halmer End played an important part in the lives of the miners both in the 19th and 20th centuries. In the early 1900s the Primitives became actively involved in politics and supported candidates for the Urban District Council. 15 seats were held by Primitive Methodist preachers. Halmer End chapel was regularly used for Labour Party Branch meetings.
January 12th 1918 saw the worst mining disaster ever recorded in the North Staffordshire coalfields when 155 men and boys died at the Minnie Pit mine. This pit was part of the Podmore Colliery. It was snowing on that morning when 250 miners descended the Minnie Pit at Halmer End. In the Primitive Methodist chapel the women were preparing for an old folks party that evening. Within a few hours the decorations had come down and the chapel became a make-shift mortuary. The women laid out bodies of men and boys killed during the explosion. A week later 127 bodies had been recovered. Halmer End then became the scene of funerals almost on a daily basis. It was not until August 19th 1919 that all the bodies were recovered. Altogether 156 died one man being one of the rescuers
An enquiry as to reason for the explosion was inconclusive. It was thought to have been started by a faulty safety lamp although sparks from stone igniting gas and lack of coal dust removal were other possibilites.
On the front of the chapel there is a plaque (see photo No 5.) and a memorial to the those who died is in Red Hall Lane (see photo No 6.)
Photos taken October 2015
OS Map Ref:118:SJ800490
Names on the Plaques of those who died in the Minnie Pit disaster
Primitive Methodists: John Hulse (teacher), Ernest Farrall (teacher), Samuel Brockley, Jack Barlow, Thomas Cope, Daniel Brayford, Thomas Challinor, William Kesteven, Reginald Harrison, William Pointon, Bertram Brockley, Oliver James Johnson, Albert Kirkham.
Wesleyan Methodists: Samuel Richardson (teacher, class leader and choirmaster), Arthur Rowley (SS treasurer), Albert Roberts (junior leader, assistant missionary and SS secretary), Lionel Rowley, George Rowley, George Baddeley, George A Lockett, Arthur Lockett, Harry Sumnall, Frank Tomkinson, Oliver Green, Amos Green, Eli Lee.