Kingsley Primitive Methodist chapel
Hazlescross Rd, Kingsley ST10 2AX
Englesea Brook Museum picture and postcard collection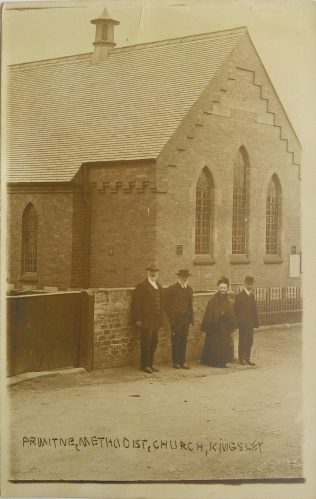 Englesea Brook Museum picture and postcard collection
Englesea Brook Museum picture and postcard collection
taken from a glass slide in the collection at Englesea Brook Museum. It dates from c.1915-35 ENBPM:2008.058
The former Kingsley (Staffordshire ) Primitive Methodist chapel in the Cheadle  circuit is shown on Google Street View in June 2011 as Hope Chapel and in residential use.  Although it has been substantially altered, chapel features are still present, including the three vertical windows at the front and the stepped edge to the top of the apex.
It was sold for £90,000 in 1999.
R Jukes in the 1835 Primitive Methodist magazine gives an account of the opening of a previous Kingsley Primitive Methodist chapel. Opening services were held on 28th and 29th December 1834 and the preachers were James Bourne   and R Jukes.
---
Reference
Primitive Methodist chapel 1835 p.429