Lask Edge Primitive Methodist Chapel Staffordshire
This chapel was built in 1875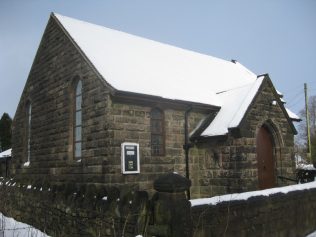 The date on this chapel is 1875 but according to the statistical records of 1972 it was built in 1880. The statistical records of 1940 indicate that it suffered bomb damage.
The stone chapel is a delightful building sitting high up on the moor. It would appear that it was built on the corner of a farmer's field. There is also a small graveyard.
In 2015 it is still open for worship.
Photos taken January 2015
OS Map Ref:118:SJ916566
Note added Sept 2017 by CH
The 1841 Primitive Methodist magazine contains an account by Hugh Bourne of the opening of Lask Edge Primitive Methodist chapel in the Tunstall circuit on October 4th 1840.
---
Reference
Primitive Methodist magazine February 1841 page 57