Elmsett Primitive Methodist Chapel
The Street Elmsett IPSWICH IP7 6PA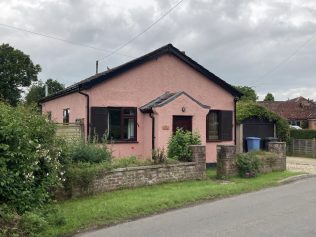 Elmsett is a small village about four miles north east of Hadleigh in Suffolk. It was missioned in the late 1830s and a society formed. For a while they met in cottages until 1843 when Thomas Fenning provided them with a small chapel, also used as a private day-school. There were 11 members in 1851, but from the mid 1850s membership increased markedly and the chapel became too small.
Jonathan Scott bought for £5 a piece of copyhold land from Mr Fenning and reported the opening of the new chapel in the Primitive Methodist magazine. The new chapel was 32′ x 21.5′ and 10′ high (although the editor of the magazine commented it would have been "much better if it had been a few feet higher"; was built of red brick with a slate roof; had mahogany topped pews; and stood at the road side where a trustee had promised an iron fence to go on the wall.
The builders (Spooner and Cook of Hadleigh) gave the pulpit and Mr Downs of Hadleigh supplied the York stone window cills, door step and inscribed tablet. The entire cost was £133/12/8 of which £60 was taken on a mortgage and £6 borrowed on a promissory note.
No opening date is given, but the opening sermon was preached by Jonathan Scott.
The chapel is named on Ordnance Survey maps of 1958 but by 1970 a cottage with the same footprint is shown, named Glencote.  Is this the same building?
In July 2021 the house name had changed to 'The Old Chapel'
---
Reference
Primitive Methodist magazine December 1858 pp.747-748