Hadleigh, near Ipswich, Suffolk
Primitive Methodist Chapel, George Street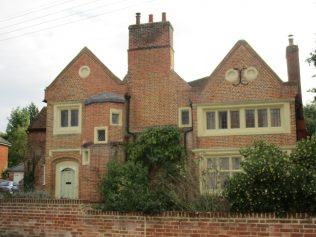 Christopher Hill October 2017
Christopher Hill October 2017
Primitive Methodism came to Hadleigh in 1835. The following year, Revd Robert Key, the East Anglian evangelist was stationed in the town.
To serve as their meeting place, the Primitive Methodists rented part of a residential building called Thorpes, in George Street. Since 1814, this ancient house had been used by the Wesleyan Methodists, but their society in Hadleigh was not a success. Key described the building as 'an old antiquated looking place, fitted to produce the impression that in the dark ages it had been a monkery or nunnery'. Despite this, during the next 12 years, services (including baptisms) were held at Thorpes, and burials took place there. The Revd Henry Knox, rector of Hadleigh, referred at the time to the 'house in which the Ranters meet at the top of George Street'.
In 1848, land adjacent to Thorpes was purchased for £14, on which a chapel was built at the cost of £155. In 1875, a new enlarged chapel and schoolroom were opened on the site.
In 1975, the chapel celebrated its centenary, but closed for worship 4 years later. It is now a private house called Rose Chapel.
(Written with information from articles published in The Hadleigh Historian magazine, by Sue Andrews (Ed) and Revd Michael Ayden)
Editor's note [CH]: The October 1848 Primitive Methodist magazine (page 629) contains an account by James Seager of the opening of Hadleigh Primitive Methodist chapel on July 21st 1848